Bolu Okupe's father calls homosexuality "anti-christian". His son responds with love
A photo was published on Instagram six days ago by Bolu Okupe holding an LGBT+ flag behind him and wearing rainbow shorts with a caption declaring his sexual orientation has made news around the world. It raised considerable reaction in Nigeria, his home country, as well as in other parts of Africa. Some comments were hostile and threatening but many other comments were encouraging, supportive and celebratory.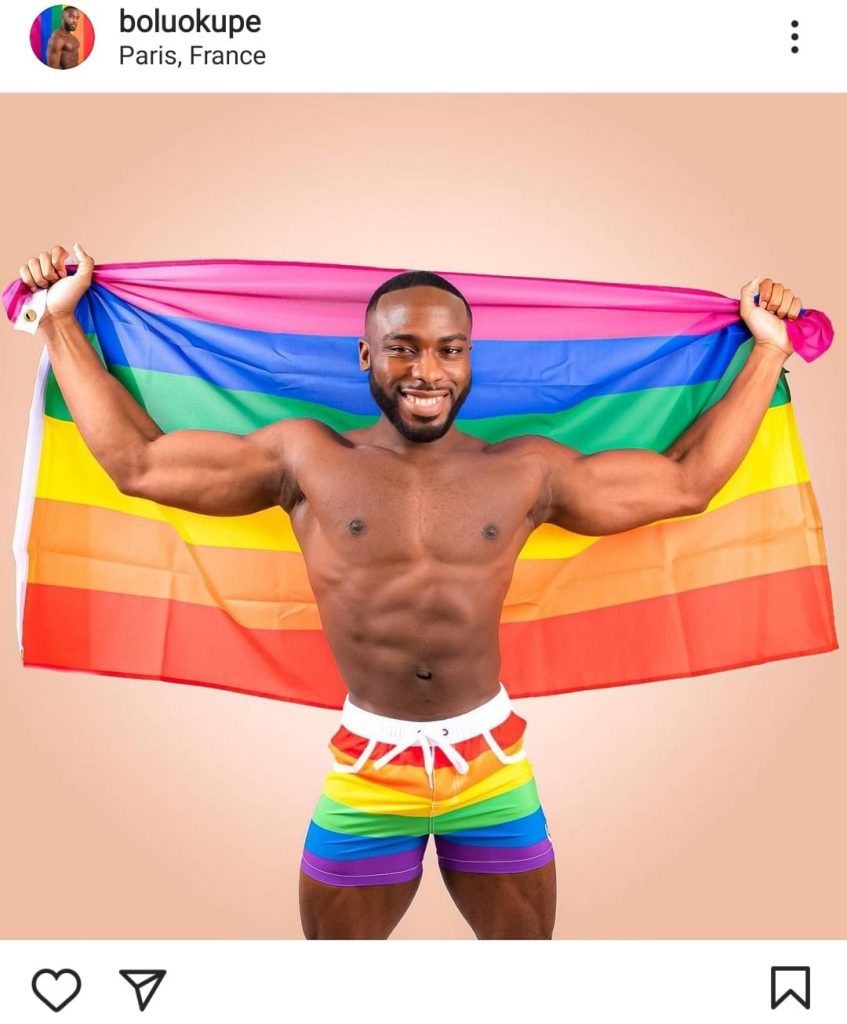 27-year old Bolu currently lives in France and is the son of physician and Nigerian politician Doyin Okupe. His father served as an advisor to the former president Goodluck Jonathan and is known to have served in a government that passed the death penalty for homosexuals and those judged for homosexual acts. This explains why many tabloids described his father as homophobic. He spoke about his awareness of his son's sexual orientation on Twitter and described it as a spiritual challenge:
"I have been aware of his new orientation for a while now. He knows that as a Christian and a witness for Christ (an Evangelist) I am vehemently opposed to homosexuality as it runs contrary to the avowed precepts of my Christian faith."
"As for me, I look beyond the surface or the physical. Here I see a major spiritual challenge ahead but I know as my God liveth, this whole saga will end up in Praise to the Almighty Jehova who I serve day and night."
His words received much support from tweeters encouraging him to take his son to God. In fact, not only did Bolu's father claim that Christianity is against homosexuality but a considerable number of those who attacked Bolu on his post used the same line of thought to justify their hate.
Emboldened, Bolu chose not to remain silent to his critics. He asked those persons who used Christianity to attack him to revisit their faith. In an interview with Punch, he reminded Christian readers that there are many other things forbidden in the Bible which they still choose to partake in. Furthermore, he asked the reason why Christianity chooses to claim moral superiority in certain things but not in others. However, he made it publicly clear that despite his father declaring homosexuality "anti- Christian", this did not change his love for him or any of his family members.
For many African Christians, religion has become a measure of love when it comes to homosexuality. Bolu invited everyone who thinks sexual orientation can be changed or is a choice, to pause and reflect on why one would even consider being in a condition that would put him to shame or in danger. He also expressed his sympathy to the LGBT+ activists in Nigeria for their great work and expressed gratitude to all those who showed him support and love.
Since 2013, Nigeria voted to penalize homosexuality with a sentence that ranges from 14 years in prison to death penalty. In his message on Instagram live video last Monday, Bolu called upon everyone, LGBT and non, to stand up for humanity and to stand up against laws that put someone to death for choosing to live one's true self. He also recalled how these laws can affect our loved ones, be it a brother, a cousin, a friend, a sister or an uncle. Regardless of the degree or extent of support one can show for the LGBT community, what really matters here is the sense of humanity and standing up for the protection of human rights is the right thing to do.