Country Love, a nigerian film with a femme queer identity as a lead character
Though their Film is a reflection of a queer femme men in Nigeria, one of the countries with most hostile laws against LGBTQ+ community in the world, Wapah Ezeigwe, did not hesite to gift the world their creation. The 26 years Old filmmaker brought on the screen a femme lead character, a revoltionary move in the movie industry in Nigeria but also around the world, this touch of creaction can change the narration of LGBTQ+ in Africa. 
In the Interview with Gay Christian Africa, Wapah underlined the fact that movie is a space where stories and fantasies can meet. They however understand how society can be a victim of cultural and religious sentiments that can limit inclusion and coexistence. They want to tell a different story where representation matters in film industry not only in Nigeria but also in Africa where Queer and Femme male characters are so often subject of strong stereotypes.
Country Love is being embraced by the LGBTQ+ community across the globe. It participated in the Atlanta's LGBTQ fil festival 2022 and in Vancouver Queer festival 2022, with a translation of the movie in Italian in progress. In this first part of the interview they will tell us about their passion in Filmmaking, as well as their new film Country Love.  In the second part of the interview which will be published soon, they will tell us about their faith and journey to reconcile their faith and their queerness.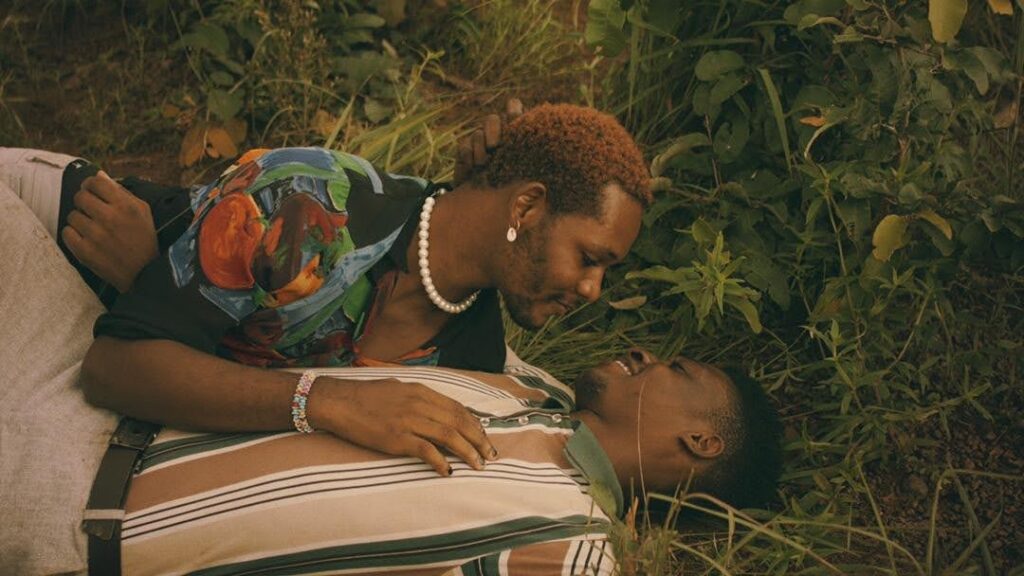 Q: Many people may have heard about COUNTRY LOVE and would like to know who is behind it. What will you tell those who are asking themselves: Who is Wapah Ezeigwe?
A:My name is Wapah Ezeigwe, I am a filmmaker based in Lagos, Nigeria. I studied Literature from the University of Nigeria, Nsukka and later moved on to study film from PEFTI film institute. I took a one-year online scholarship course with Sundance Collab and currently I am amongst the 20 west African filmmakers selected for the Multichoice Talent Factory 2022. As regards my passion, I have always been art inclined, I started out with writing poetry back as an undergraduate in the university. I was an active contributor for The Muse Literary Journal. Being in the Literary department really formed a huge part of my self-expression and identity. Although I knew very early that I had a deep interest in filmmaking, I do not regret studying literature. The poetry, the prose, the critical essays I studied as an undergraduate played a critical role in how I viewed art and its relevance through the evolution or history of humanity. I came to understand that no matter what form of art, what matters is what resonates deeply with you and which of the forms gives you an audible voice for self-expression. I think through literature, I fell in love with film. They may be different in form, but I think they are also intricately connected.
Q: Where does the passion for filmmaking come from?
A:I started out as a writer. I wrote lots and lots of screenplays as a young boy. I remember using my old secondary school books to write screenplays and then would give them to my younger brother to read. I discovered very early that I had a passion for film. I do watch lots of films and during any chance of privacy, I would play out those characters in the films I had watched. I discovered I used to be easily influenced by the characters I saw in films that I watched. I loved the idea of creating those characters, of giving them a personality, and creating a world around them. Seeing diverse films that reflected diverse human expression became a powerful instinct that made me begin writing screenplays and through those screenplays I was able to pour out the imaginations in my head. As I grew older, I discovered Directing as another aspect of filmmaking and I realized that if writing brought the stories to the pages, then directing did much more of bringing them into reality and that was exactly what I desired, to see my imaginations become actualized in the big screen. I came to grasp that filmmaking has lots of aspects to it and it's left for the filmmaker to discover their strength in all these creative aspects.
Q: Your upcoming movie Country Love is bringing something new to the mainstream, what is that? And why Country Love?
A: COUNTRY LOVE is a film that borders on sibling relationship, memory, and the idea of home. It's a film that centers a femme queer character living within the African society. That sort of character, I think, is something new, is something fresh. I am very much drawn to telling stories with gender diverse characters. I feel the representation in cinema is still very limited, we may see queer characters but then what sort of queer characters do we see. There is this narrowing of queerness as being masculine in the few queer films I have seen. I wanted to make an inclusive film that shows the diversity of the queer identity and I wanted to push back against femmephobia and queerphobia in the African society. It is one thing to be queer, but it is two things to be queer and to be femme, both identities come with its detriment in a rigid gender and sexual conforming continent. If there is anything I did with Country Love, it is the centering of the femme queer identity, it is creating visibility for the gender diverse character and that was exactly what I wanted to achieve. So, Country Love came from a place of passion but also from a place that saw the need for a more inclusive cinema that truly reflects our diverse humanity.
Q: You are making a queer film in one of the countries with the most hostile laws against "homosexuality" in the world. Aren't you afraid of being harassed or your movie being banned?
A: I am a very passionate filmmaker, and it is the passion to tell stories that gives me the courage to tell them. Film for me is that powerful medium to be seen and to speak boldly and distinctively to the world, to tell stories about my humanity and any humanity. And when I say humanity, I gravitate more to those on the edge of existence. I believe we live in a very diverse world and our experiences as humans are very eclectic. It saddens me when we overlook the story of certain people probably due to religious or cultural sentiments, but then the truth is that all stories matter, and to build a more inclusive world, there must be representation. When it comes to my art, I cannot be impeded by fear or homophobic criticism, I am rather driven by the politic of inclusion. The cinema can never be monopolized despite governmental propaganda to criminalize homosexuality, the cinema would always be a universal language and a safe space where all human experience can be reflected. The homophobia only spurs me to make art that stimulates conversation. I am not worried about anything. If at this point the film already exists why then should I still be worried. The film would not go down well with every individual and that is absolutely fine. The film would likely get banned and I wouldn't be surprised as well. But it is less about it getting banned and more about the ignorance and cowardice of the people who ban films that are not in harmony with their own personal sentiments and morality. The film is already made, it exists as a cinema even if it is not accepted here. It is a shame to the National body responsible for film in Nigeria to not recognize at this epoch that art cannot be monopolized, that art is a collection of diverse human experience that are valid, and it is absolutely philistine of them to overlook our eclectic humanity and to regulate the stories people should tell and should not tell.